Knotty Knotty Bondage Ties
The amazing thing about rope is the amount of knots there are, doing the same tie but with different knots can create a completely different look without changing much at all. While there are a number of basic ties that
every rigger should have in their arsenal, rope can be used by just wrapping without tying it for the feeling of the rope on skin. Great care should be taken with neck rope and any load bearing rope such as in suspension, knots used in these situations should be something called 'non collapsing' knots so they have no chance of constricting.
Rope bondage is essentially a series of knots that form a column around an appendage or specific area of the body. In order to explore bondage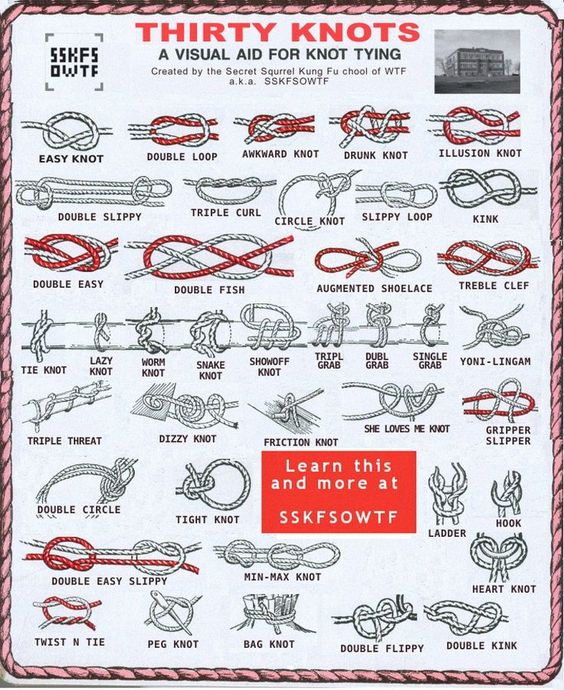 safely, you need a basic understanding of knots, sensitive areas of the body to apply different types to, and to ensure that you are safely applying pressure to the body and ensuring you have safety sheers on hand in case you need to remove the rope quickly. A square knot is best in most situations, it is a basic knoť to learn and because it lays relatively flat, it is perfect for use on most parts of the body comfortably. Slip knots and common but there are safer for effective loops like bowline knots that ensure a wider loop that won't slip, and provide a wider surface area which will help apply less pressure to the skin. If you are using a slip knot as an anchor for instance, you need to tie it off at some point so you don't risk cutting off circulation – especially if you are using something like cock and balls as an anchor point. Whatever ties you use, practice makes perfect and muscle memory over time will make it easier for you to practice rope bondage safely and enjoyably.
Mistress says…
Practice beginner ties and use them in different positions.

Consult multiple online tutorials.

There are lots of events you can attend to learn more.

Having a friend as a bottom to practice with is great, but you should also start on yourself.
---
Educational Practical Components
The types of knots and ties used can vary enormously from simple to elaborate and depends on what type of bondage you want to try or even which part of the body you want to tie. One problem that can be encountered when bound is that the ropes can tighten or the knots slip causing discomfort and pain, something to be avoided, so learn your knots well and always have your safety scissors close by.
TRY IT!
Single Column Tie
Rope bondage is made up of many different ties; but the first one anyone should learn is the single column tie. This one tie will form the foundation for everything else you do.
Single Column Tie
Two Column Tie (double)
Basically, this tie is for tying any two columns (wrists, ankles, wrist to ankles, thighs, calves, etc) together.
Double Column Tie
Mistress says… TRY IT!
These are some ties involving double column ties, combining two parts together. There are three video tutorials to try.
Cage Legbinder
Futomomo Box Style
Booty Basket
---
Contributors: This article was researched and written by Umlindi, edited by Mistress Michelle and published by Umlindi.
These educational topics wouldn't be possible without the hard work and dedication from our Dom(me)sLife contributors – Thank you MM